Category: Unique Vacations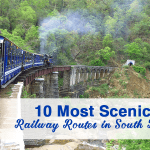 Traveling by train is an experience I cherish! Train journeys allow my mind to travel through the childhood memories I cherish, like the mock trains we used to make by holding on to our friend's shoulders and chugging along in long lines, or the fights with siblings to get the window seat on real journeys!
The adventure and thrill of train travel has always been an amazing experience! To take this experience further, here is a rundown on the 10 most beautiful & most fascinating train routes that cover enthralling and diverse landscapes in South India.