Category: Unique Vacations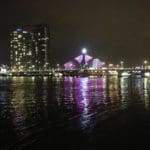 Da Nang is decked out with bright lights and towering skyscrapers, twinkling bridges, one in the shape of a coiling dragon and still another, the Han Bridge, that looks like something out of a Japanese urban adventure.
During the day, students bustle to work on their motorbikes, carrying two or three passengers at a time while workers have since been up at the crack of dawn, wearing their face masks to protect them from the pollution that is almost non-existent by other country's standards. For an American, the traffic patterns would be considered almost chaotic, but to a normal resident or even an expat on an extended stay, it's a controlled chaos, perhaps even safer than the false sense of security that traffic in the United States provides. Here there is little road rage or public condemnation of driving of any sort because it's just assumed that you "go slowly," at an intersection and give anybody the right of way. Anybody. It's traffic that has etiquette built into its logic.