Category: Trip Planning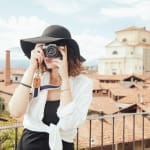 Have you been scared away from visiting Europe because it's just too expensive? Well there's good news on the horizon. Not only is the dollar strong again and climbing in value against the Euro, but seasoned traveler Matt Kepnes (a.k.a. Nomadic Matt) has shared his secrets for How to Travel The World on $50 a Day.
It's been 50 years or more since Arthur Frommer first peaked America's imagination to head to Europe for $5 a day. Generations have now hopped-the-pond to explore Europe, and the world, on a budget. Matt's terrific guide for traveling smarter in today's economy should be on everyone's book shelf.