Category: Trip Planning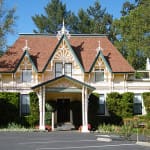 Have you toyed with the idea of owning a Bed and Breakfast someday? Here's the basics of what you need to be a successful Innkeeper.
Move over Lorelai Gilmore and Bob Newhart, do you think you have what it takes to be an innkeeper? I can't think of any other profession that combines the knowledge from as many different disciplines as innkeeping does. From cook to concierge, housekeeper to historian, gardener to greeter, mediator to marketer the list goes on and on, so to be successful you need to know your limitations and know when to get help.