Category: Trip Reports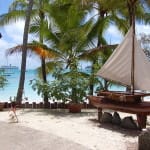 I discovered New Caledonia when searching for a perfect honeymoon destination. It was the closest to the image of a perfect tropical paradise I had in my head. It is also heavily influenced by French culture, including cuisine and architecture, so discovering New Caledonia was like Paris, the city of love, only with heavenly beaches and turquoise seas. I could not have imagined a better combination, so that's where we spent our honeymoon.
Naturally, I wanted to make sure we made the best of our experience there, and I'm sharing my tips and insights to help you do the same.