Category: Travel Trends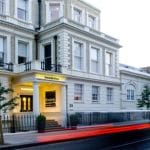 London attracts millions of visitors from across the world each year. To meet the demand there are about 9,000 plus hotels in the Central London alone, but alas, the city has a reputation for being quite expensive. So where can a budget traveller turn for reasonable accommodations in this vibrant city?
For those visiting London on a budget, one good option is to stay in a short-term serviced apartment. For others looking for a traditional hotel experience that won't break the bank, London has a growing number of trendy hotels that provide a clean, nicely decorated room and a good breakfast for economical prices.
Here's a look a some of London's Best Budget Hotels: