Category: Scenic Drives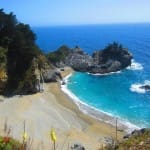 The Ultimate Roadtrip Tips and Tricks for Route 1, The Pacific Coast Highway
Whether you're on a weekend break or a year-long trip of a lifetime, making entirely new memories is a unique experience. That's why I love road trips! Every day brings something different, a new stone unturned, a new path untraveled, a new road un-driven!
Driving The Pacific Coast Highway is a journey that takes you through the heart of California's spirit. With its heart stopping turns and stunning coastline vistas, it comes as no surprise that this highway is one of America's unofficial pilgrimage routes. From surfers to food groupies to motoring enthusiasts, this particular road trip attracts thrill-seekers of all sorts.