Category: Romantic Vacations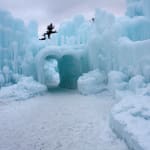 Winter 2015 has to be one for the record books with huge snow storms and frigid temperatures whipping across the country. But it's not all bad news. Remember the thrill you had as a kid when you could run out in the snow and play? Now with winter school vacation just days away, there's a new attraction that is sure to light up smiles on every face, old and young!
Ice Castles have sprung up across America thanks to a very imaginative Utah-based visionary.