Category: Romantic Vacations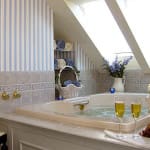 Now that the New Year's festivities have finished, it's time to get ready for the next big holiday to warm our hearts this winter – Valentine's Day! This is an easy one to fall for since it involves several things we adore including romance, chocolate, flowers, and champagne. Because many BnB's across the country are known for romantic getaways, this is the time of year they shine even brighter.
Take a look at our pick of romantic inns offering special pricing and packages for Valentine's Day.