Category: Travel Styles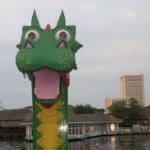 Sixty-six million tourists from across the world visited Orlando in 2015 alone, with most setting their sights on the city's biggest attractions, including Disney World, Universal Studios, and SeaWorld. As the nation's most popular tourist destination, Orlando boasts an array of theme parks and water parks, but vacations to these attractions come with a hefty price tag. Fortunately, central Florida also offers many hidden gems to explore, allowing you to take in all the City Beautiful has to offer for less than $1,000.
Plan your budget-friendly Orlando getaway with these tips.