Category: Travel Styles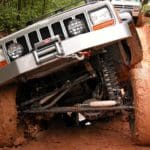 Top Places To Have Some Off-Road Fun This Summer in the North America.
According to the U.S. Census Bureau, nearly 63 percent of people live in cities, while cities take up only 3.5 percent of the land. There's a lot of room to explore, but many of us rarely make it out of our city safety zones to do so. When you do decide to go on an adventure, what's your activity of choice? Camping is a perennial favorite. Have you ever tried off-roading? There really is nothing like the thrill of it.