Category: Family Vacations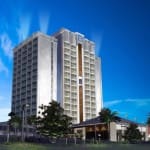 Disney invites you to "B" one of the first travelers to experience it's new B Resort at Walt Disney World Resort in Orlando, Florida. The B Resort is just weeks away from opening and is offering great introductory rates for summertime stays.
The B Resort promises to add a fresh contemporary sophistication to Disney's selection of hotel experiences. The highrise hotel has been designed to offer equal fun for adults and kids.