Category: Family Vacations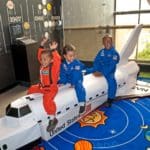 Free and Affordable Things To Do in Washington with Kids.
Washington, DC is a great place to visit with kids, luckily for parents you can bring together an entire weekend of activities without spending a dime thanks to our tax dollars at work funding the Smithsonian Museums. In terms of finding a place to stay there are two easy ways to travel hack Washington, DC and accommodations for less. The first is to visit DC on the weekends, weekend rates at hotels drop $50 to as much as $100 dollars per night as business travelers decline.