Category: Adventure Vacations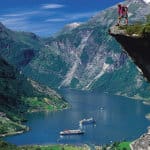 Scandinavia has all the elements your need for the most exciting and stylish holiday of your life!
Scandinavia is a vast Northern European territory with a diverse culture and a wide range of wildlife. The classic image of this beautiful region is the endless fir forests, maybe the wilderness and definitely the coastal amazing fjords. Scandinavia is situated in Northern Europe and is comprised of Norway, Denmark and Sweden. It is a unique place where you can experience an almost endless choice of different delights.