Category: Adventure Vacations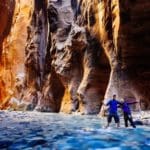 The 7 Best and Most Spectacular Hikes in America's West.
Yes the West is huge. It can be hard to figure out where, exactly, one should strike out for a mind-blowing hike. Other than tropical jungle, there's every type of terrain imaginable. There are rainforests, high deserts, mountains, canyons, plains, and even an entire landscape of nothing but lava rock called Craters of the Moon.