Category: Venice Tips
What do we all do when planning a vacation? (Let us skip the tickets, hotel and packing part). Imagine these all are set and a day or two are left until the flight. Of course, we need a plan on what to see and where to go.
In the mood for magic and romance, I watched a million of videos of carnival and loving couples sailing in gondolas. I had made a nice plan (as I thought), packed all my fancy dresses and a few pairs of peeps. I thought I would fit the place perfectly. If I only knew how wrong I was!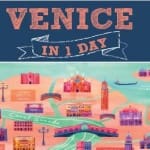 With all the crowds of tourists visiting Venice all year round, it's important to plan ahead to be sure you fit in all the iconic sites and activities. Here's our advice on how to tour Venice in one exciting day. Make the most of your time in this legendary city.
An Introduction To The Prosecco Road in Northeast Italy. There was a time when Prosecco wine would be the drink of choice of only a few fortunate Italian northerners, a common presence at the end of their meals or to celebrate special occasions.  But with exports of this sparkling white continuously on the rise, it's […]