Category: Barcelona Tips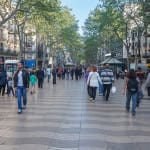 The Ramblas: the changing face of Barcelona's most famous street.
I remember the first time I walked down the Ramblas well. It was February 1998 and Barcelona's most famous street was full of tourists and locals alike. There were silver-painted human statues, stock still until a coin clattered into their collection boxes, buskers of varying degrees of talent, and card tricksters keeping a keen eye out for the first sign of the law. Whether taking a stroll, people watching, or on their way elsewhere, the street was bustling with activity as people went about their business.