Category: Tip of the Day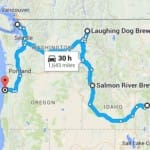 A brew and a view: Best Northwest Breweries to visit.
America's Northwest is a gorgeous area for travel, with rugged mountains, clear running rivers, high desert, and ocean access. This area also has also become known for some great breweries. These breweries boast regional ingredients and deliciously crafted beers of all varieties. So while you're taking in the wonders of the Northwest, why not check out its nature sites and breweries at the same time?
Here's a guide to an epic tour of breweries and nature sites you won't soon forget.
Hey what are you doing next weekend? It's about time that you dusted off your golf clubs and headed out of some a crisp clear morning to play a round.  We have good news – it's opening day at the Bethel Inn Country Club in Bethel Maine, and to celebrate the early opening of the […]