Category: Culinary Travel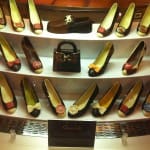 Delizioso – Top Spots for Chocoholics to Visit in Milan. Tour Milan by Chocolate!
Most of us love bringing home some souvenirs from the new places we've visited, and chocolate is probably one the most popular and sought-after items in this regard. Indeed, each country has its own unique and original recipe for the preparation of this delight and Italy is no exception. Chocolate has become firmly established in the life of Italians, and is an integral part of Italian cuisine. Trendy Milan has several secret places where you can taste the unmatched Italian chocolate and other incredible desserts – these spots should not be missed!