Category: Good To Know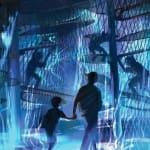 Starting on June 14th, Philadelphia will be host to the largest permanent exhibit totally dedicated to the brain and neurology.
The Franklin Institute has constructed a 53,000 sq. ft. expansion, the Nicholas and Athena Karabots Pavilion, to house an amazing innovative exhibit – Your Brain. This exhibit allows visitors explore the inner workings of their brains. Visitors can test their brain's ability to multi-task with a driving simulator, or walking under a piano that is hanging dangerously low in order to illustrate the way fear is represented in the brain. A neural light show displays the neural connections as visitors step on floor panels or climb up an 18ft structure. How would you like to enter a street scene made up of illusions and learn how your brain processes its surroundings?