Category: Texas Travel Tips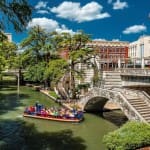 Using Johnny Cash, or Hank Snow before him, as a measuring stick, I've officially been 29.7 percent of everywhere. Of the 91 places mentioned in the American version of "I've Been Everywhere" I've been to 27, one of which I was born in. A current place of fascination for me is not mentioned in the song, which is curious considering an abundance of Texas towns mentioned.
San Antonio is somewhat of a hidden gem. For the past 25 years, it has ranked in the top 10 of fastest growing U.S. cities. Not surprising, the former capital of Texas, is now its second most populous city. It has also been noted as the number one city to visit on a budget.