Category: Texas Travel Tips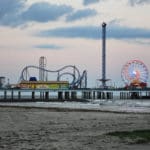 7 Family Fun Activities in Galveston, Texas.
Galveston is a dream vacation destination that many people seem to overlook. With a plethora of unique museums, plenty of gorgeous beaches, and a collection of exciting theme parks, Galveston is a true paradise for those looking to get away from their everyday lives. There's truly something for everyone when you visit Galveston, but families will find that many of the local activities and attractions are appropriate for both the young and old alike. If you're thinking about taking a family vacation anytime soon, check out some of the great family friendly activities below to see why you should be planning a trip to Galveston.