Category: Texas Travel Tips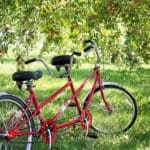 Learn About Fredericksburg Agricultural Tourism!
Nestled in the gorgeous Texas Hill Country, Fredericksburg is a charming city with a small-town feel, historic buildings, friendly residents, and ample open spaces encouraging visitors to escape from the hustle and bustle of urban and suburban life. It's also one of the nation's top destinations for agricultural tourism (or agritourism), a new trend in vacationing where visitors can immerse themselves in the picturesque ranches, farms, orchards, plantations, wineries, and vineyards.
During insightful tours of Fredericksburg's most renowned agricultural hotspots, you can learn about the growing seasons and lifecycles of all types of fruits, flowers, vegetables, plants, and animals throughout the year in Fredericksburg. This makes an easy and fun way to add a special touch to your vacation regardless of when you decide to visit.