Category: Las Vegas Travel Tips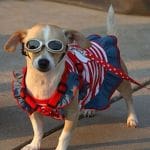 Vegas has become Dog-Friendly. Here's Where to Find The Best Pet Friendly Hotels in Las Vegas.
Taking your dog with you to Las Vegas is no longer a traveler's dream, it's a reality. More than a hundred Las Vegas hotels, since 2011, have added dog-friendly services to their already extensive list of amenities. Massages for your four-legged friend, plush beds, personalized water bowls, mouth-watering menus and easy to access dog-walking services have made Las Vegas one of the most pet-friendly destinations in the US.