Category: Las Vegas Travel Tips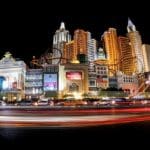 Las Vegas and Macau, two sides of the same chip. Let's compare the two gaming destinations.
Round-the-clock indulgence, opulent suites, five-star restaurants and A-list entertainers are all part of the Las Vegas experience, but for those who want to experience it all, Las Vegas is only the beginning. Turn your attention to Macau – a Special Administrative Region of the Peoples Republic of China – which offers a uniquely Asian version of the Las Vegas experience with even more gaming tables, restaurants with a delightful mix of Cantonese and Portuguese cuisine, and historical sites that date back to the 17th century.