Category: New Orleans Travel Tips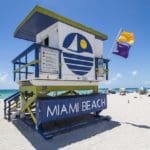 Going on vacation is the perfect opportunity to escape the stress of everyday life and put off your daily responsibilities for an extended period of time. However, planning out the details of your getaway can be overwhelming if you don't take charge and make decisions early.
The most important choice you'll make is what US location you should head to for your next vacation. Take the time to learn about a few hot spots so you can narrow down your options and begin organizing the rest of your trip. Then allow yourself to simply relax and have a good time once you arrive.
Here are our suggestions of four great vacation spots that offer unique American culture and fun.