Category: Florida Travel Tips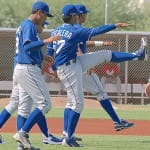 With the Super Bowl behind us, it's time for the boys of summer to migrate to their warm weather spring training fields. So find your sun glasses and baseball cap and plan a great getaway to one of these Beds and Breakfast Inns near spring training ball parks.
There's nothing like spring… a time for blooming flowers, home makeovers, and a tease of warm weather. But spring isn't a tease for baseball fans.