Category: New England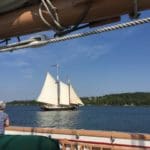 For a vacation that will renew your vigor, reset your internal clock and put you in touch with the commanding natural beauty of coastal Maine, there's no better choice than to sail aboard one of Maine's Windjammer Fleet. If you've never considered a sailing vacation aboard one of the 9 schooners in the Maine Windjammer Association fleet, you're missing one of life's great adventures.
Let me set the stage.