Category: Colorado Travel Tips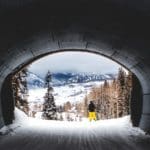 Colorado Cream: Best Ski Resorts in Colorado and which mountain is best for you.
For many winter sports enthusiasts, Colorado has become synonymous with great skiing. The state's ideal location within the Rocky Mountain region makes it a hotspot for snow lovers, and several ski resorts have earned outstanding reputations among locals and tourists alike. Here is a list of the best ski resorts in the great state of Colorado and what they offer different types of skiers and snowboarders. Make some of these your next winter destination this year with these resort ideas.