Category: Alaska Travel Tips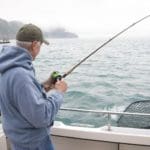 13 Best Fishing Spots in Alaska for Catching The Big OneAlaska is known to be the state of adventures.
If you have a particular hobby, then Alaska will attract you. The kind of beauty and wonderful fishing spots makes Alaska the best in the world. You can catch some of the biggest Salmon fishes here. Alaska is located in Extreme North America and shares the maritime boundary with Russia. Apart from its perfect geographical location, Alaska is indeed a Disneyland for Fishing lovers. So, here are the best fishing spots in Alaska that you must visit.