Category: Middle East & Africa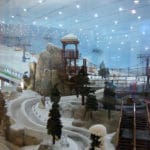 Spend this winter in Dubai – There's tons to see and do!
Dubai's winter sun is known for its ability to beat the winter blues and get you all set to enjoy one of the most favorite seasons of the year for most travelers. And since winter is nearly upon us, Dubai is the best destination to head to this year. Between its spacious pools, shopping centers, Ski resorts and its futuristic skyline, Dubai is by far the ultimate winter destination. Pack your bags, book your flight and head to the dynamic city of Dubai! Whether you're a first-time visitor or not, here is your Dubai travel guide this Winter for a vacation well-spent.