Category: South America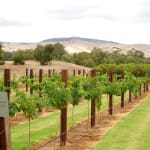 Wine Regions Around the World That Say, "Move Over France and California"!
Although there are more than a million wine producers who produce in excess 2.8 billion cases of wine each year, global wine production has decreased in the past decade due to recent worldwide economic instabilities. On the other hand, a global consumption trend never really had any major oscillations, people simply love this historic beverage. You probably think of France, Spain, Italy or California as the leaders in this business, and you are right to do so, however, underdogs are slowly, but surely emerging to challenge the world wine market.