Category: Mexico Travel Tips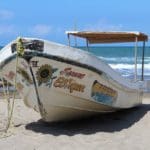 5 Favorite Low-Key Beach Towns in Mexico, perfect for escaping the crowds.
Mexico is renowned for its lively beach towns, but many have become overly-hyped and flooded with tourists in the recent years. For travelers looking to avoid the crowds of places like Cabo San Lucas and Cancún, Mexico has a number of lovely, largely untouched beach towns that offer low-key relaxing vacations. In that spirit, we've listed five of our favorite laid-back Mexican beach towns below. Read to learn more about where to go and what to know!