Category: Mexico Travel Tips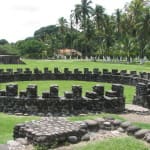 I first discovered Cempoala (sometimes spelled Zempoala) in 1971, only 452 years after Cortés dropped in during 1519. Modern day villagers were delighted to see an outsider. I was virtually passed from family to family to share meals of shrimp soup under palm, mango and banana trees. I questioned: was I touring Mexico or being a unique object on display for the locals?
Located off Federal Highway 180, thirty miles north of Veracruz, the peaceful town is where the first Christian cross was raised on the mainland of the New World.