Category: Latin America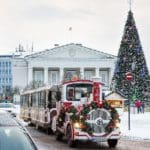 Give a gift of multi-general travel this year for the holidays ahead. It's a gift your family will remember for generations!
Conventional gifts can be overrated, and rather than offer gadgets, flowers or toys to the kids, why not take them on a trip? If you're not in the mood to spend Christmas at home, pack your bags and head out on an adventure. Or put together a package of maps and information on a vacation spot where you can all spend time together. The world is your oyster! Pick a destination that best matches with your family's preferences, and have the time of your life enjoying time together in a new destination. Make plans in advance so that you don't spend a fortune on accommodation and flights, and check out the following destinations.