Category: Spain Travel Tips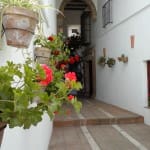 What an unforgettable way to spend a few days in Spain! While spending three weeks touring the south of Spain, we were encouraged by friends to check out the city of Ronda in the province of Malaga. So we did.
Approaching the town, the landscape gave us no clues as to what was ahead. The terrain was rather plain and agriculture oriented, until we got to town. Once in town, history starts to come alive as the narrow cobble stone streets echo the voices from the past.