Category: Ireland Travel Tips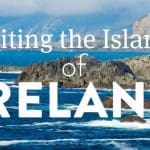 Getting to know Ireland's intriguing off-shore islands.
Many of us have visited Ireland more than once, as the hospitality of the Irish is unsurpassed and the scenery is stunning. But just when you think you know the island-nation well, there is more scenic beauty waiting just offshore on one of Ireland's 80 off-shire islands. Here's an introduction to Ireland's beautiful off-shore islands just waiting for you to explore.