Category: Germany Travel Tips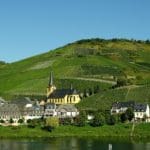 Move Over Beer Halls – Visit Germany's Wine Country for an Unforgettable Vacation. Germany offers something for every traveler, but is a particularly great vacation destination for those who enjoy wine tasting, touring vineyards or participating in one of the country's many annual wine festivals. Here are our best tips for planning a wonderful vacation in Germany's Wine Country.
Regarding wine tasting, there are more than 1000 events scheduled in Germany on a yearly basis, and these are most often held between August and October. Nearly every town, whether large or small, holds at least one festival showcasing local wineries. If you are planning a trip to Germany with the goal of visiting its beautiful and interesting vineyards and wine making facilities, you can anticipate a trip that will never be forgotten.