Category: Scotland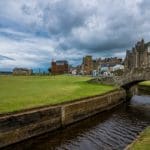 St. Andrews' Old Course in Scotland: Story of a Golfer's Dream Getaway.
Being one of the best courses in Scotland, a country known as the 'home of golf', there's obviously a lot to say about St. Andrews' Old Course, or often referred as just 'The Old'.
I was lucky enough to be able to visit the Old earlier this year in February. This article is my story of the day there. The St. Andrews' Old Course is truly a special course unlike any other in the world – let me take you through the journey of what makes it so unique.