Category: Caribbean Travel Tips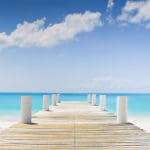 What was a sleepy remote archipelago 20 years ago, is now an ultra chic island destination with dozens of luxury beachfront properties built to compliment the island topography and to offer the best in island lifestyles.
Because of our in-depth experience on this beautiful island, Expedia.com asked us to share our tips on making the most of a trip. Take a deep breath and relax, you are about to be soothed and pampered, and will surely fall in love with the many charms of the Turks and Caicos Islands.