Category: Australia & So. Pacific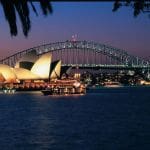 Great Travels tips for Free Things To Do in Sydney! As Australia's foremost global city, Sydney is considered one of the planet's most green and connected cities. Sydney offers an excellent choice for numerous tourists, business leaders, and thousands of students each year. Blessed with a sunny climate along with stunning beaches, Sydney is one of the most vibrant and dazzling cities in the world.
And the good news is that visiting doesn't require a plump purse to enjoy the sights and sounds of Sydney. Here are our best travel tips to explore Sydney and see the sites – for Free!