Category: Asia Travel Tips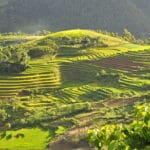 Vietnam is a Southeast Asian country that has become renowned for its beaches, temples, Buddhist pagodas and lively cities. This country is an astounding blend of natural attractions and cultural diversity. Splendid sights, exciting beaches, amiable people, and exotic tastes make the country one of the destinations in the hearts of tourists across the world.
Here is a look at the top scenic attractions when visiting the fascinating country of Vietnam.