Author Archive: Contributing Author
What To Know To Have A Successful First Time Skiing
The people who have been on a skiing trip before know just how much fun they can be. Carving your way down the slopes, breathing in that fresh mountain air, and spending cozy evenings with your friends, beer in hand; it's all good stuff! So you can see the appeal. But if you're haven't yet been on a skiing vacation, then there are some things you'll need to know if you want to make yours successful. Below, we take a look at a few useful tips that'll ensure you have all the right pieces in place.
When it comes to travel, we can all have different ideas on what we want to do. Some people have bucket lists filled with plenty of destinations they want to see at some point in their lives. Other people may love the idea of city breaks, or seeing the countryside. Exploring different aspects of it. Whatever your reasons for travel, I bet there is one problem many have in common. The financial side of things. How can you find or pay for the travels? I want to share with you some of the things that you can consider.
There are some pretty stunning areas of the world that are ideal for sea-based exploration and discovery, and the South of France has got to be one of the best. There are many picturesque and vibrant areas here, but Antibes is one of the most iconic and unforgettable. There are a lot of things you can achieve and enjoy if you want to enjoy a luxury yacht charter in Antibes. Here are some of the top reasons why yachting here is a total must.
We can spend a long time looking for a vacation spot that gives us infinite possibilities as far as adventures are concerned. But, travel challenges can always get in the way, and before we know it, a great vacation is reduced to constantly running for taxis, or struggling with maps. When it comes to getting around any big city, there any fundamentals that we need to have with us to ensure that our vacation experience goes very smoothly. Here are our suggestions for navigating new cities with ease.
Here's How To Choose Your Vacation Accommodation
When it comes to going on vacation, we all have our preferences. You're always going to find that there will be different things that you care about the most, and then things that others care about. And that's only natural. To some, heading to a hot location and enjoying the finest hotel facilities will be all that matters. Then to others, exploring different locations and new cultures is all that counts. And neither is right or wrong, because travel can be just as personal as anything else in life. However, when you are trip planning, it's so important for you to be thinking about what matters most to you. As you research and even when you're ready to book, you should be sure that you've found something that meets your needs, rather than anyone else's.
How To See The Best of Atlanta on a Limited Budget
Atlanta is a great city in the heart of the American south with so many great things to see and do. Many people stop off in the city for connecting flights or business trips because it has one of the world's busiest airports, but people often overlook it as a vacation destination. That's a real shame because it's a great city with all sorts of amazing attractions and you should definitely consider it next time you're looking for somewhere to go away. The only problem with visiting Atlanta is that it can get fairly expensive. But it doesn't have to be that way if you don't want it to be.
The only thing better than the excitement and anticipation of a vacation is the holiday itself. For a lot of people, going on vacation is the only thing that keeps them going through the stresses of everyday life. When they go to work and they are feeling bored and uninspired, they look out of their window and dream of hot climates or extreme sporting activities.
In order to have all the fun you dream about, you need to have the money. Saving for your holiday can be difficult, but if you are clever with your saving tactics then you will be just fine. Here are our tips for realistically accumulating holiday money.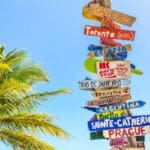 Tried and True Strategies For Finding The Best Travel Deals
If you would like to make sure that you are able to travel on a budget and afford all the tours you want to take, without being stuck in a shabby hostel or motel, you need to learn the art of finding good deals online. There are many large companies all offering to get you the best deals, and some of them even offer a price guarantee, but – at the end of the day – not all deals are listed online. Below you will find a few tips for making your holiday money take you further.