Author Archive: Contributing Author
The only thing better than the excitement and anticipation of a vacation is the holiday itself. For a lot of people, going on vacation is the only thing that keeps them going through the stresses of everyday life. When they go to work and they are feeling bored and uninspired, they look out of their window and dream of hot climates or extreme sporting activities.
In order to have all the fun you dream about, you need to have the money. Saving for your holiday can be difficult, but if you are clever with your saving tactics then you will be just fine. Here are our tips for realistically accumulating holiday money.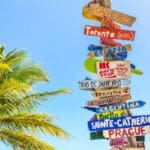 Tried and True Strategies For Finding The Best Travel Deals
If you would like to make sure that you are able to travel on a budget and afford all the tours you want to take, without being stuck in a shabby hostel or motel, you need to learn the art of finding good deals online. There are many large companies all offering to get you the best deals, and some of them even offer a price guarantee, but – at the end of the day – not all deals are listed online. Below you will find a few tips for making your holiday money take you further.