Author Archive: WGTT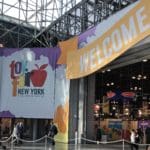 6 Toy Fair Finds that are perfect for family travel. This year I was welcomed back to the Annual Toy Fair that was held in New York at the Jacob Javits Center and I was on the hunt for toys that are great for bringing on family trips.
The Toy Fair is huge and there is so much to see and learn about. There are lots of new toys that are perfect for a road trip, dinner out, a plane trip, or anywhere you need to go. I was lucky enough to meet with lots of great new up and coming entrepreneurs, who have incredible visions of what kids would love to play with. There were so many to discuss, so sit back and get ready for the toy travel ride…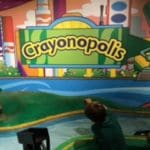 When in Pennsylvania, do as they do, go to Dutch Wonderland and Crayola Experience
Recently we were looking for a fun weekend getaway with our 5-year old. We decided to try out Lancaster, PA and Easton, PA for some serious kid fun. Joined by our good friends and their 4-year old we headed out for a smile-packed weekend.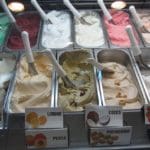 Our family was recently hosted by Sugartooth Tours, who specializes in sweat walking dessert tours in NYC.
What could be more inviting than walking the streets of New York City, stopping to sample delicious ice cream along the way. Come with us as we take a walking tour along the sweet streets of NYC.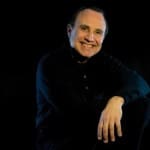 The Charles Hotel in Cambridge, MA Welcome's Grammy Award Winning Artist- Michal Camilo
The newly renovated Charles Hotel, , located in Cambridge, Massachusetts, kicks off their Summer Jazz Series on April 1st. Michael Camilo is returning to the stage after taking time off to work on his new compositions, including an Off-Broadway play.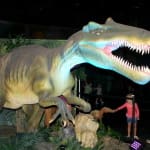 Looking for a great experience with your kids to do indoors this winter? A must see is Discover The Dinosaurs a traveling exhibit and entertainment event that is visiting cities across the United States.
Discover The Dinosaurs is a large exhibit that encompasses 8-10 elaborate scenes of dinosaurs from different periods of prehistoric times. These dinosaurs move, have sound, and you and your kids will be amazed at what you see. The experience starts with a scavenger hunt that adds to the learning experience. Once you are finished viewing all of the dinosaurs, take a try at digging up some dinosaur fossils.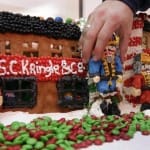 Visiting Gingerbread Lane at the New York Hall of Science is a sweet treat!
The New York Hall of Science (www.nysci.org) is one of three locations hosting the Guinness World Record-holding Gingerbread Village with the theme of "Tale of Three Cities" this year. New York Hall of Science is located in Flushing, NY at the Flushing Meadow Park. The elaborate custom crafted gingerbread city is being shown at New York Hall of Science in Queens, The Algonquin Hotel Times Square, Manhattan, and The New York Marriott at the Brooklyn Bridge.
Why visit Poughkeepsie, NY you ask? Well let me tell why Poughkeepsie is a great secret kept for family getaways. Located in the Hudson Valley, Poughkeepsie has a great deal of culture and history.
If you like to enjoy the great outdoors, there are amazing hiking trials, the Walkway Over the Hudson, wineries, apple picking and many historical sites to see. With it being less than two hours from New York City, and accessible to many types of transportation, it makes for a great getaway destination. The views around the Hudson Valley make it well worth the drive. The Dutchess County Tourism website has an abundant amount of resources and events that will help you plan your vacation trip.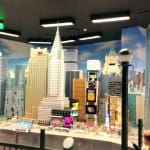 What is more exciting to kids than Legos? Here's our trip report of a toddler's first visit to Legoland Discovery Center in New York. My son could not wait to go and we invited some friends join us for the trip. Our friends purchased their tickets online prior to going, which is highly recommended to guarantee entry, and to take advantage of discounted online prices.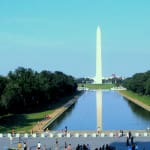 Top Things to do in Washington with your kids.
We recently took a winter getaway to Washington, DC. We wanted to go somewhere we could drive to and that would have great things for our toddler to enjoy. My husband and I have not been to Washington, DC since we were kids ourselves. Most of the museums are free in Washington, which makes it a particularly great family destination.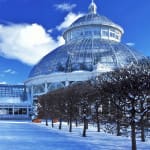 We have great recommendations for fun winter activities with kids in New York City. As we all know trying to find something to do with a toddler during the winter can be a challenge. Luckily, there are a lots to do here in NY.
We decided to visit the New York Botanical Gardens Train Show. We live about 15 minutes from the Botanical Gardens, but had never been there. We were graciously hosted by the garden to see the Holiday Train Show and see the rest of the garden.
I was able to experience sesame place this past summer with my two year old son and share my experiences with you. As I look at activities to do in the winter to keep my now 2 ½ year busy, I look back at Sesame Place and see how many great events that they have throughout the year to enjoy. You sometimes think, that theme parks are just for the summer, but that's not always true. Many have great activities all year round.
During December, Sesame Place is planning A Very Furry Christmas, which is featured between November 23-December 31st.
I have lived 10 minutes from the Belmont Stakes for 13 years and have never gone there. I would never have thought to take my family there because it's a racetrack, and I had no idea that they would have attractions geared towards families and children. I was checking one of my usual go-to sites for things to do, MommyPoppins.com and they had Belmont Stakes listed as one of the things to do on the weekends. We decided to take our toddler for the day and we all had a surprisingly great time. Here's what you can look forward to:
Sunday is Family Fun Day At The Park
We recently visited Sesame Place for my son's 2nd birthday, and what a wonderful experience it was.
Sesame Place is the only theme park that is based entirely on the Sesame Street television program. It is located 90 minutes south of New York City in Langhome, Philadelphia. We decided to go a little early in the season to avoid summertime crowds and spent two action packed days at the park.
A Family Friendly Winter Getaway to the East End of Long Island – Trip Report Winter cabin fever had settled in and our 19 month old yearned for adventure.  My husband and I decided to pack up and head to the East End of Long Island for a change of scenery. Long Island Winter Fest […]