Why Portsmouth is considered the historic capital of the UK
Whenever UK tourism is spoken about, it would be fair to say that London often grabs the headlines. This isn't a surprise, and is completely fair. After all, for general tourism at least, London is one of the best capital cities in the world.  At the same time, London does have its downfalls. It's exceptionally busy and like the majority of capital cities across the world, it can be very expensive for travelers.
This is where worthy alternatives enter the picture. As the title of today's post might have already given away, this article is about Portsmouth and specifically, all of the historical attractions that are on offer in this city. In regards to accommodation, hotels across Portsmouth are a much better value, which alone makes it a good alternative to London.
Bearing this in mind, let's take a look at some of the best historical attractions that Portsmouth has to offer in more detail.
Southsea Castle
With Southsea having its own train station, this is a completely accessible attraction in the city. Of course, logistics alone aren't a sufficient reason to visit a site whilst on vacation, but this historic fortress is well worth exploring.   Southsea Castle was built in 1544, in the rein of King Henry VIII as a fortification against attacks from the continent, although it traded hands during the English Civil War after being captured by Parliament.
One of the most interesting elements of this castle is that it is still very well preserved, and even has its own tunnel that visitors are permitted to enter. Southsea Castle also has impeccable views from the gun platforms, allowing you to cast your eye as far as the Isle of Wight.
With the castle being completely free for large parts of the year, it should definitely be on your to-see list if history is your thing.
Charles Dickens' birthplace
Portsmouth is famous for a lot of things, but many people don't realise that this is the birthplace of Charles Dickens. The city has made it possible to visit the house in which he was born, and lived for some time. Of course, this house has been restored to what it would have been like during Dickens' childhood – it's a real tourist attraction and boasts a Regency style that was prevalent during his childhood.
There is also an exhibition room that forms part of the museum, including all sorts of items that Dickens was famous for during his much-celebrated life.
The Mary Rose
Another key attraction in the city comes in the form of the Mary Rose. This is again linked to the era of Henry VIII, with this being his favourite ship. As well as being his favourite, it's also the ship that infamously sank .
It was relatively recently that it was pulled from the bottom of the ocean and restored to the visitor attraction that we know today. Now it offers visitors the chance to see countless Tudor objects and of course the boat itself, in an attraction that many regard as the pinnacle of historic Portsmouth.
Portsmouth is widely considered to be the world's greatest naval port and is home to the Royal Navy.   This port has played a part in England's history from Roman and Medieval times, during both world wars, and right up to the liberation of the Falkland Islands.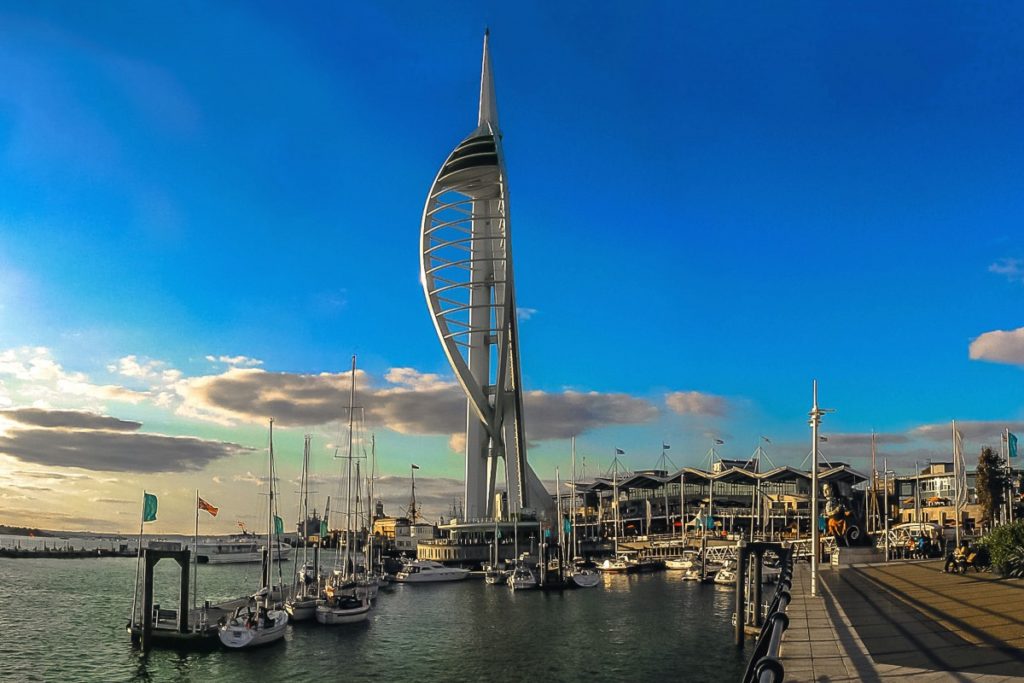 There are layers of significant British history to be explored here, and they are not done yet.  In 2005 the Emerates Spinnaker Observation Tower was built to add a modern flare.  You would be forgiven for thinking that you must be in Dubai gazing at the dynamic spiral-shaped tower.  To miss visiting the delighful town of Portsmouth would be to miss the grand seafairing history that led to England's dominance of the world's seas.
Category: Cultural, England/UK Travel Tips, Featured
Comments