Momondo, Europe's fastest growing travel booking site, should be on your short list of websites to use when making travel arrangements no matter what country you live in. In recent flight pricing standoffs, Momondo took top spot for consistently delivering the lowest fares.  Not only do they search for the least expensive flights using twice the number of sources as other meta search sites, their search results automatically compare the cost of a flight versus the cost of taking the train. Momondo is the only travel booking engine that includes train schedules and pricing in the search results, making it easy to compare travel options for cost, convenience, timeliness and ecological impact.
For folks traveling within Europe where train travel is often more convenient than flying, this search service is groundbreaking. In the Northeast corridor of the USA, where Amtrak's high-speed Acela trains are prevalent, travelers can now search both airline and train options with one query. Once you've gathered airline and train pricing, it's a simple matter to click over to the rental car section and compare the cost of making your trip by rental car as well.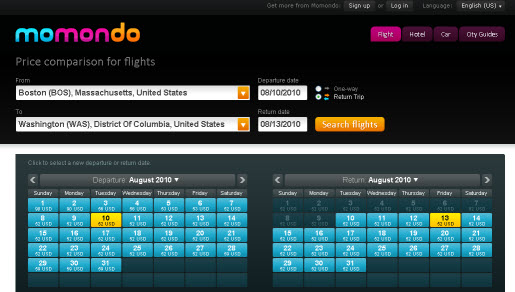 I was impressed with the number of travel sites included in Momondo's search results. Not only do they scan all of the well known airlines, they also query more than 150 lesser known budget airlines, consolidators and aggregators as well. I particularly liked the calendar display that immediately shows the lowest fare on alternate dates. The ability to include nearby airports was another plus. And to settle any jitters you may have about purchasing from an unfamiliar ticket source, consumer reviews are provided.
All in all, I really like this Danish site and the expanded travel choices they provide. I've heard a rumor that their next ground breaking development may be a tool that lets you compare travel services door to door including airport transfers services, airport parking fees, taxi fares and the like. Now that would be great!
Category: Airlines & Low Airfares, Featured, Low Air fares, Money & Technology
Comments