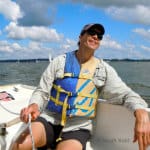 Discover Your Inner Swabby by Learning to Sail in a Weekend
How can two land-locked adventure seekers with the dream to sail around the world learn to sail? By taking lessons, of course. The dream of sailing around the world in our first few years of retirement has been ours since we first met. But life is short and we figured we'd better not wait until then to begin the adventure.
We were in love with the idea of sailing, but we really didn't know if we would like sailing. Good news– It's even more fun than it looks. It's hard to describe the inner calm that develops while quietly gliding through the water powered only by wind – it's truly addicting.